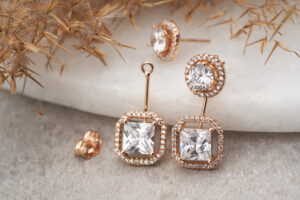 Within the vast array of diamond earrings available in the market, there are certain styles that remain less popular than others. In this article, we explore the least selected choices of diamond earrings in the USA, shedding light on alternatives that may not be as commonly favored but are still worthy of consideration.
Marquise-Cut Diamond Earrings: The marquise cut, characterized by its elongated shape and pointed ends, often takes a backseat to more popular cuts such as round or princess. However, this unique cut offers a distinctive and dramatic appeal. Marquise-cut diamond earrings can create an illusion of elongated and slender ears, adding a touch of sophistication to any ensemble. With their unconventional shape, these earrings are an excellent choice for those seeking a less common yet striking style.
Colored Diamond Earrings: While colorless diamonds are the go-to choice for many, colored diamonds present a captivating alternative. Diamonds come in a variety of hues, including yellow, pink, blue, and even rare shades like green and red. Opting for colored diamond earrings allows you to express your individuality and stand out from the crowd. These vibrant gems can complement different skin tones and add a dash of personality to your jewelry collection.
Vintage-Inspired Diamond Earrings: In a world of modern designs, vintage-inspired diamond earrings offer a nostalgic charm and a nod to the past. Styles influenced by different eras, such as Art Deco, Victorian, or Retro, showcase intricate details and unique craftsmanship. Vintage-inspired diamond earrings bring a sense of romanticism and heritage to your look, making them an intriguing choice for those with an affinity for timeless elegance.
Cluster Diamond Earrings: Cluster diamond earrings feature multiple smaller diamonds grouped together to create a dazzling cluster effect. Although these earrings may not boast the grandeur of a single large diamond, they offer a captivating sparkle and a unique visual appeal. Cluster diamond earrings can be designed in various shapes, such as flowers, stars, or geometric patterns, adding a playful touch to your jewelry collection.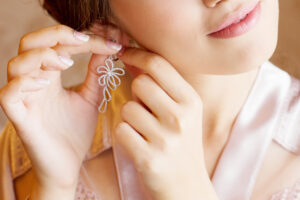 Hoop Diamond Earrings: While hoop earrings are a popular choice, combining them with diamonds adds a touch of glamor and sophistication. Hoop diamond earrings come in various sizes and styles, from delicate hoops to larger statement hoops. These earrings offer a versatile option that can seamlessly transition from casual to formal occasions, adding a touch of sparkle to your everyday look.
In conclusion, while certain styles of diamond earrings dominate the market, it is essential to explore lesser-selected choices that offer unique and distinctive characteristics. Marquise-cut diamonds, colored diamonds, vintage-inspired designs, cluster earrings, and hoop diamond earrings all present compelling alternatives. By venturing beyond the usual choices, you can discover a hidden gem that perfectly reflects your personal style and becomes a treasured addition to your jewelry collection.