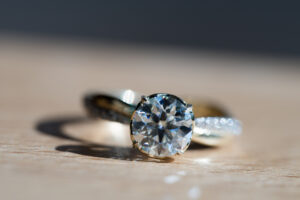 Many cast members of the drama series Emmerdale are married. The latest Emmerdale stars to be engaged are Chelsea Halfpenny and Danny Miller. Here, we will discuss their engagement rings and wedding bands, alongside the diamond rings and jewelry of a few others.
Chelsea Halfpenny
Emmerdale actress Chelsea Halfpenny and her fellow actor James Baxter got engaged. Baxter gave Halfpenny an emerald engagement ring. It features an emerald gemstone on a gold band. It seems that Halfpenny also has a necklace that goes well with her emerald ring.
Danny Miller
Emmerdale actor Miller proposed marriage to his long-time lover Steph Jones in a Saint Lucia candlelight dinner last year. In February 2021, Jones discovered that she was expecting her first child with Miller. The actor known for his role Aaron Dingle in Emmerdale gave fans a better view of Jones' three-stone engagement ring after the birth of their son last October.
Fiona Wade
Known for her Emmerdale character Priya Sharma, Wade announced that she and her beau Simon Cotton got engaged four years ago. The duo first met on the sets of the drama series. Cotton initially gave Wade her mother's jewelry for engagement, but the couple has since been able to design her dream ring with a diamond.
Liam Fox
Actor Liam Fox, who plays Dan Spencer in Emmerdale, and his lover Jo Hudson got engaged during a 2019 romantic getaway to Paris. Fox shared a photograph of Hudson and himself that shows her shining diamond ring. They got married many months later at the Cheshire-based Peckforton Castle hotel.
Charley Webb
Emmerdale actor Charley Webb and her fellow actor Matthew Wolfenden got married back in February 2018, over 9 years after his proposal to her. The mother of three has rose-gold rings with sapphire and diamonds. The couple designed the rings when they were in India after their wedding. They shared a closer look at Webb's bridal jewelry in honor of her wedding anniversary.
Lisa Riley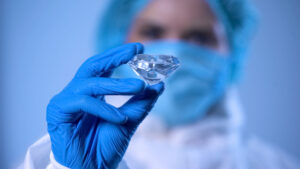 Four years ago, Emmerdale actor Lisa Riley and her beau Al got engaged. The actor, who briefly came back to Emmerdale, took to Instagram to share her engagement ring with a band made of silver.
Louisa Clein
Way back in 2011, Maya Stepney actor Louisa Clein from Emmerdale married barrister Jeremy Brier. Lawyer Robert Rinder was the best man for their wedding. The actor has a delicate gold bridal ring.