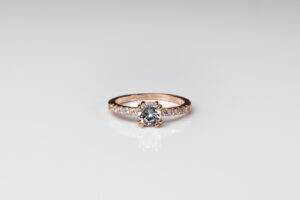 It is important to know the different areas of an engagement ring to find the right product. It can aid you in simplifying the choice. There are so many options available for diamond rings online and in physical stores that you can find it overwhelming. Knowing which engagement ring areas your future partner likes and does not like, will help you with choosing the right item for them. It is especially important when you hire a jeweler to get an engagement ring designed.
Here, we will discuss the different style elements of engagement rings. If you cannot differentiate the setting from the diamond ring shank, read further.
Shank
The term shank refers to the hoop or band of an engagement ring. Jewelers offer the shank in many different forms, including ornate, elaborate, plain and simple options. Engagement rings usually feature round shapes with flat bottoms, which are popular when the pieces have large stones. The stones can keep the ring from rotating itself around the engagement finger.
Gallery
The term gallery often refers to an element of the engagement ring setting. It is possible to view the gallery from one side of the ring. Sitting below the centerpiece, the gallery works as an excellent way of making the jewelry piece more elegant. It comes in many different styles, some of which are more elaborate as compared to others.
Setting
The ring setting is the area that holds the gemstone in place, usually at the upper part of the piece. The setting is typically an important feature since it not only plays a part in how the gemstone plays with light but also determines the amount of light visible on the ring.
Shoulders
The shoulders of an engagement ring are on its side and support the head. Sometimes, ring shoulders are studded with lab grown diamonds that make the design more beautiful.
Prong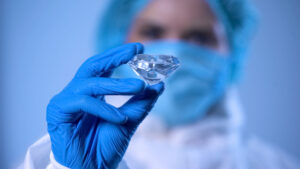 A group of claws is another component that jewelers use to hold gems in place. Usually, a prong setting comprises 4 to 6 metal claws on the head of an engagement ring and holds the centerpiece securely in place. One of its benefits is that the setting lets the centerpiece gem interact with light, which makes it appear bigger than it is.
Accent Diamonds
Diamond accents are small diamonds that jewelers use to make engagement rings more decorative. They usually put accent stones on the head and shank of engagement rings, adding elegance to the pieces.