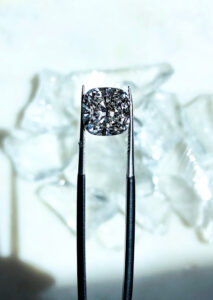 Losing a diamond can be a heart-breaking experience considering the huge price associated with this stone. But your diamond rings might be prone to a lot of tugging, banging, and twisting. This can make the prongs in your ring, which hold the stone, loose thereby increasing the risk of losing it. Therefore, it is important for you to check regularly for loose prongs so that you can reduce the risk of losing your precious stones.
How To Check If The Prongs Are Loose?
In some cases, it might be possible for you to easily spot a loose or broken prong. But in most cases, loose prongs can go unnoticed and you will only understand that your prongs were loose only after losing a stone.
Most diamond rings and other pieces of jewelry use prongs for holding the stone. Prongs are small claw-like structures that hold the stone in place. The security of your diamond can increase based on the increase in the number of prongs. However, you will have to compromise the visibility and brilliance of your diamond to enhance its security. When there are more prongs, there will be more metal covering the stone thereby reducing its visibility and the light entering the stone.
When choosing a ring with less number of prongs, it is important to check for loose prongs frequently to make sure that the risk of losing your diamond is low. You can check for loose prongs through some simple ways which are mentioned below:
One of the easiest ways is to tap your ring lightly using your fingernail. If there is any rattling sound, then one or more of the prongs can be loose.
You can also find out if your prongs are loose by physically trying to move the diamond around. If the diamond moves or twists, then it can indicate loose prongs.
What To Do If The Prongs Are Loose?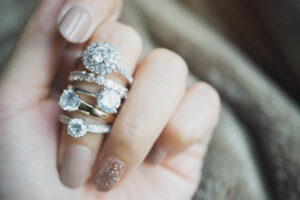 Losing your diamonds, whether they are natural or lab grown diamonds, can be a huge loss for you, both monetary and sentimental. Therefore, if you find that your prongs are loose, then take off your ring immediately and take it to a jeweler.
A jeweler can easily repair the loose prongs. However, if the prongs are broken, then they should be replaced immediately to protect your stone. In certain circumstances, it might be necessary to replace the entire head of the ring because of the delicate and intricate settings that can be hard to repair.
Along with checking for loose prongs yourself, you should take it to a jeweler occasionally who can thoroughly inspect your ring using a magnification lens to detect the presence of loose prongs.