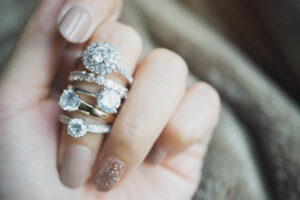 Eternity rings are loved by people for their great symbolism. This ring setting features a number of small stones surrounding the entire circumference of the ring. The loop of gemstones surrounding the ring symbolizes eternal and never-ending love. Eternity diamond rings are a popular choice for wedding bands. A lot of brides love them for their special meaning. Eternity rings can also be gifted on special occasions like a wedding anniversary, the birth of a child, etc.
What Are Eternity Rings?
Eternity rings come with diamonds or other gemstones covering the entire circumference ring. These stones can offer extra shine and brilliance to your ring thereby giving it an extravagant look. The endless loop of gemstones can be a great way to showcase your love for your partner.
Another alternative style of eternity ring is a half-eternity ring that comes with stones embedded only on the face of the ring. This ring won't have any stones on the bottom half of the ring. These rings can be more affordable than full-eternity rings. So if you are looking for eternity rings with cheaper rates, then they can be a wonderful option for you. Additionally, getting lab grown diamonds for your eternity bands can make them further affordable.
There are several important things you have to consider when getting eternity rings. Some of them are mentioned below:
The Metal Of The Ring
Commonly used metals for eternity rings are gold and platinum. If you prefer a classic and traditional option, then go for white gold or platinum. But vintage lovers can choose yellow or rose gold because of the warm look they can offer.
When choosing a metal, you have to consider its durability to ensure that your ring can last forever. Platinum is the most durable metal that won't get scratched easily. Even though gold is less durable than platinum, it still exhibits great durability and can last for a long time.
The Gemstones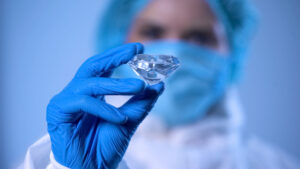 If you want your engagement ring to have stunning brilliance, then it is better to go for diamonds. Some diamond alternatives like white sapphire, moissanite, and cubic zirconia can be the best option for you if you are looking for cheaper options. Colored gemstones including colored diamonds, rubies, sapphires, etc. can offer a vibrant and distinct look to your ring.
The Setting
Eternity rings usually come with a prong, channel, bar, or bezel setting. Hence, you can choose an option based on your likes.
Eternity bands are a classic, timeless option that you can gift to your loved ones. Therefore, if you are looking for a special gift for your partner, then think no further, as eternity rings can be the best option you can get.