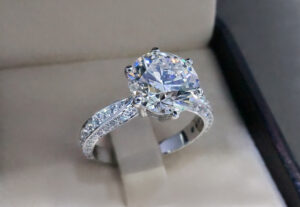 The flush setting is popular in engagement rings and wedding bands. This setting offers a modern appeal for the ring and maximum protection for the stone. The flush setting can be a great choice for people who want a stunning engagement ring that offers better security for the gemstone.
Flush Ring Settings
In a flush setting, the gemstone will be set "flush" with the band of the ring. Here, the diamond will be set into a hole drilled in the ring's band. The stone won't protrude out of the band in any way thereby avoiding your ring snagging on things.
The jeweler hammers the stone into the metal so that it will be secured into the band. Hence, this setting is not suitable for stones that can crack easily.
This setting is especially popular in men's wedding bands, as it's not flashy. The flush setting offers a simple look for your ring; hence, it can be suitable for you if you want a minimalistic appearance for your engagement ring. This setting can provide durability and security for your ring without sacrificing style.
However, only the top surface of the gemstone is visible with this setting. So, it can prevent the entry of light to these stones thereby reducing their shine. Whether you use natural diamonds, lab grown diamonds, or other shiny gemstones, this setting can affect their brilliance. So, if you want a flashy ring, then this setting may not be suitable for you.
Pros Of Flush Setting
Offer a simple, sleek, and polished look for your engagement ring
Protects diamonds and other gemstones
Can be suitable for people who use their hands a lot
This setting is highly functional
The risk of your stones falling out is very low, as they will be secured to the band.
Creates a practical choice for people
Cons Of Flush Setting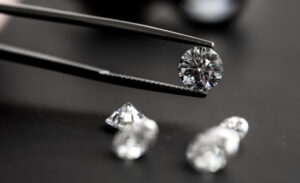 Reduces the visibility of your stones
Might not garner immediate attention
Reduces the brilliance and shine of your diamonds by minimizing the amount of light that passes through them
Your stone might appear smaller than it is
Not suitable for stones with low durability
Every ring setting has its benefits and drawbacks. Hence, when choosing a setting for you, its pros and cons have to be considered. If you are planning to get a ring with the flush setting, then make sure that you are aware of the advantages and disadvantages associated with this particular ring setting. This is important to find out whether this setting can be the right option for you.