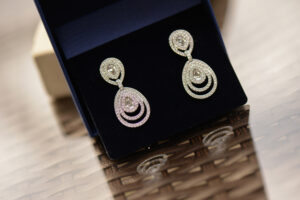 Precious metals including gold, platinum, and silver are commonly used for engagement rings and wedding bands. Each of these metals has its own properties. Therefore, you have to be aware of them when choosing an option for your ring and bands. The following are some of the important pros and cons associated with different precious metals that you have to be aware of when choosing an option for you.
Platinum
One of the most popular options in engagement rings, platinum, is known for its great durability. Platinum can be highly resistant to scratches and other common damages. Therefore, it creates a wonderful option for people who tend to do a lot of strenuous activities with their hands.
Also, platinum is a naturally white metal and it has a wonderful brilliance. The natural white appearance of platinum makes it a good option for white gemstones including diamonds, as it can enhance the brilliance of these gemstones. Whether your ring has natural or lab grown diamonds, platinum can be a wonderful option.
Additionally, as platinum is naturally white and highly durable, there is no need to re-plate or re-polish your rings.
But platinum is very expensive than other precious metals.
White Gold
White gold can be a low-cost alternative to platinum, as it offers a look similar to that of the latter. It is also commonly used for engagement rings and wedding bands and is adored for its white shine.
However, white gold is not naturally white. Some other alloys are added to it to create a white color. White gold comes with a rhodium coating that offers it a white shine. But this coating will wear off after a few years.
Also, this metal is softer than platinum, hence, it can get scratched easily. Additionally, some alloys present in white gold might be allergic to some people.
Yellow Gold
Yellow gold is adored for its warm look that can offer a vintage appeal to your ring. It attracts people with its shiny yellow appearance.
However, yellow gold is very soft which makes it prone to scratching. Therefore, you might have to re-polish your yellow-gold ring once in a while.
Rose Gold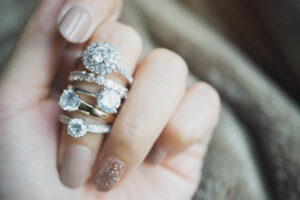 This is another stunning metal that can offer a warm look to your ring. It can provide a unique appeal to your engagement ring. But rose gold comes with alloys like copper that some people might be allergic to.
You can also choose silver for your engagement rings. However, it is very soft which makes it vulnerable to scratching and damage.